One traveler recently had a Minute Suites experience as she swung through Dallas on the way home from San Francisco. She flew into Terminal C, had to get to Terminal B and wasn't sure she'd have time to stop in Terminal D, which is where she had the reservation. When she called, they offered switch her Terminal A. For the top-notch service, she agreed to a Q&A. Here's her quick guide to a weekend in Napa:
What kind of traveler are you?
I consider myself an aggressive traveler. If I see an opportunity, I try to snag it, because I love being on the road. So if I have a wedding to attend in, say, Palm Springs, I'll tack on a weekend in Joshua Tree. Or when my family heads to Portugal this spring for a trip, I might add a few stops in Spain or Morocco. Or both!
This trip was the same—a seized opportunity. My husband had to spend nine days in San Francisco for business, so I began scheming early on how we could make it fun. I flew out to meet him for a few days and made it our first baby-free getaway.
Why Napa?
Wine.
Oh, and the rolling countryside. Even though it was rainy and cold the whole time I was there, it felt lush. I was coming from a long winter out East and had spent some time in New York, so I wanted more of a natural feel vs. staying in San Francisco.
I was traveling on my own and there were no directs to San Francisco from the airport in Illinois from which I was departing. I actually routed myself through DFW so I could stay at Minute Suites and enjoy my layover for once. From SFO, I rented a car and made the lovely 1.5 hour drive.
Where did you stay?
I couldn't decide if I wanted to stay in Napa Valley itself, or surrounding areas… St. Helena, Yountville, Sonoma, even Petaluma. This time, I stayed at Rancho Caymus Inn near Rutherford. It's a little boutique hotel and outside my price range much of the time, but thanks to a great deal and some Chase credit card points, I booked it. Vaulted ceilings, wood-burning stove—kind of a cozy Southwestern vibe made it a great place to relax in the rain.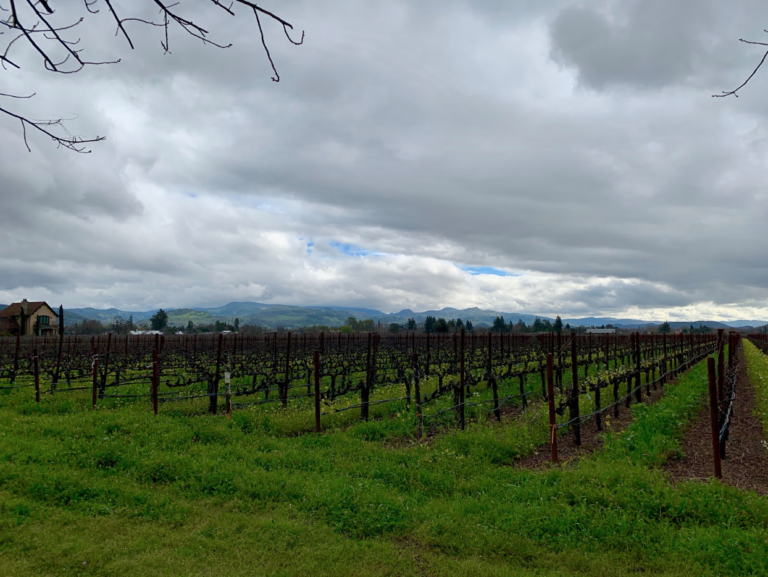 What did you do?
Most people (I assume) go to drink wine. Wineries are all over and it can be hard for me to know which to choose. One day, I went to Elizabeth Spencer, which had a lovely little tasting room across from my hotel and is best-known for whites. The experience was relaxing and took several hours. Each wine had a story attached, and our sommelier compared each one to a blond female singer and enlisted our help to find the right descriptor. Up the road is my favorite: Rutherford Hill, more about reds and the crafting that went into each one. You can book a cave tour or just taste.
We also tried out V. Sattui. This one was very different than the other two I mentioned— it was crowded. You paid outside, then went in and stood at the bar instead of getting a seated experience. That also meant the sommeliers weren't working off of tips. They didn't share stories; it was definitely a more mass-produced experience. But ours at least gave recommendations and it was nice to be left alone a little to just talk.
Did you do anything else besides drink wine?
Yes! One day, we drove around Lake Hennessey and discovered a walking trail at Moore Creek Park. Because it was raining, we didn't go far, but it was worth exploring outside the wineries!
Also, the Culinary Institute of America is in Napa, so you really can't go wrong when it comes to food. We didn't feel like driving much, so we stayed near Rancho Caymus. Based on my very limited experience, the best breakfast, hands down, is Auberge du Soleil. Sit outdoors if possible and overlook the valley. We splurged on dinner there this time, because it had a Michelin star and we don't get out as much with a baby. It's a pricey night out, but a good one. Near Rancho Caymus is also Rutherfood Grill, which has large portions and generous pours. It's the kind of place that makes me feel like I'm on vacation.
Then, after a great weekend of unwinding, a little stay in Minute Suites was just what I needed to keep me calm all the way home, especially when my flight got delayed for no apparent reason. It also made a cross-country trip doable within a weekend, and if you can shape your journey with a Minute Suites oasis, I'd highly recommend booking right away. There's a reason it's award-winning!
What's your best traveling tip?
Use points! I'm no expert, but with a little research, I've gotten three credit cards and I carefully optimize each one: travel and dining on one for 3x the points, groceries and gas on another for 2x the points, and another that I don't use too often but it got me a bonus on Skymiles and Delta status.
Start small: find one credit card that fits you (consider: Do you want to be loyal to an airline or free to fly the cheapest route? Stay in mostly hotels or look for discounts on your own? Do you do enough travel and dining to make the 3x points worth it?). Be warned, however, once you start, you'll be incentivized to keep traveling. Make sure you're ok with that!
If you're a traveler—seasoned or new—and willing to share your experience on the road, let us know at info@minutesuites.com. We'll be in touch!