Budget level: Expensive to get there, cost-effective once you arrive
Tusu Kabbah is General Manager at Minute Suites' Philadelphia International Airport location. She travels regularly to a lesser-known destination: Monrovia, Liberia. Here is her quick guide to planning a visit (though she goes to visit family so her take is not as a tourist).
First, how would you describe yourself as a traveler?
I consider myself average traveler. I try to go West Africa once or twice a year, because my family still lives there. If I'm not going there, I link up with my friends who live in different states. Working at Minute Suites allows me to see and socialize with people from different parts of the world even while I'm not traveling, though. That's my favorite part about working there.
So tell us about West Africa. Why should we go?
The weather! I went in December, while it was 20 degrees in Philadelphia. In Liberia, it was 80 degrees. Even when it's raining heavily, still 70 degrees. Doesn't matter what time of year. You can enjoy that weather on beaches, looking at palm trees, enjoying the culture.
The whole pace of life is different. In America, it's go go go. You're working, planning activities, always running—always rushed. And you have to be on time. In Africa, it's the opposite. It's more relaxing; you're not checking the time and rushing around.
Plus, you walk everywhere and eat delicious food, all organic. You can literally go in the garden and pick it and cook it. The first time I went back, a few years ago, I had a chicken leg and it was so small. Nothing like what I get at KFC! You see how a normal chicken leg is supposed to be. It makes a difference: my parents are older and they've never been sick. I'm always sick! They are healthy and active.
There's also crazy good value on American dollars. I can buy a meal for 5-6 people for about 10 dollars.
But for me personally, it's being around family and relaxing my brain. I stay at my dad's house. My sister cooks for me. We go into town 15 minutes into town to shop or 20 minutes to the beach for a picnic—it's amazing. Everyone is nice.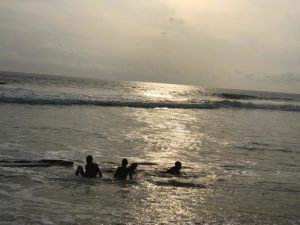 How does Monrovia relax your brain?
When I'm in my yard, I can smell the ocean. All the beaches nearby are good. You'll probably see no more than 10 people. It feels like your own private beach. You can pack food or stop in at shops.
Yet I can also go to Waterside Market and buy anything from anywhere. You want Christmas trees? Someone will sell you one. A lightbulb? You can find one. It's like Say Yes to the Dress trunk show or a big yard sale. But it's like walking through NYC, but without the rush.
One of my favorite things is to have clothes made for myself. My sister has tailors and I give them the design to measure me and have clothes made for $15-$20. And I love trying different mom and pop shops, which are everywhere. Older ladies are making food and will make you lunch.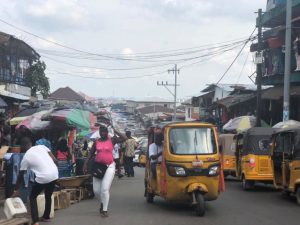 Sounds amazing. How do get there and where do we stay if we don't have family?
I've learned a few things about getting there. You want to book flights at least a few months in advance. The cheapest I've ever seen roundtrip is $1K or $1200. And all in, it's about 21 hours. I usually go from New York to Morocco to Monrovia, but New York to Morocco is 16 hours. Take a sleeping pill with you! It's a daunting flight. Flights go up around holidays, too. So if you want to go in December, book it way in advance, like in the summer.
As far as staying there, you can find hotels but I have never stayed in one. People have Airbnb's too or home rentals. Remember, the American dollar can really stretch. My uncle had a house he was renting for $250 a month. It's really doable.
A couple of other tips: for someone who has never been there, never use your phone outside. Never even answer your phone in the market or taxi. And keep your pocketbook across your body. This is especially true for foreigners
In fact, if you're not African, go with somebody who knows the country. Every country has their own flaws when it comes to crime. In Monrovia, they can detect foreigners, even me—people spot my accent and try to raise the price on things. Prices are never set, so I go in, take a picture of what I want, and send my sister in to get it for me. She'll talk them down.
So when's your next trip?
Well, I was just there in December. So my next trip is Houston! I'm heading there on Memorial Day for a girls' weekend.
If you have tips to add for traveling to Liberia, let us know at info@minutesuites.com. We'll add to Tusu's thoughts or maybe be in touch for an interview!