When Steven Schumacher tweeted about Minute Suites in November, we reached out to see how it went for him. Turns out, he knows a thing or two about traveling. So we also asked him to share his advice!
Tell us about your first Minute Suites experience.
I've always noticed Minute Suites and wondered what they were. Once, I tried to get in, but they were full. So this year, when we headed from Atlanta to Connecticut to see family for Thanksgiving with an 11-month-old, I made a reservation and timed it so we could get to the airport early.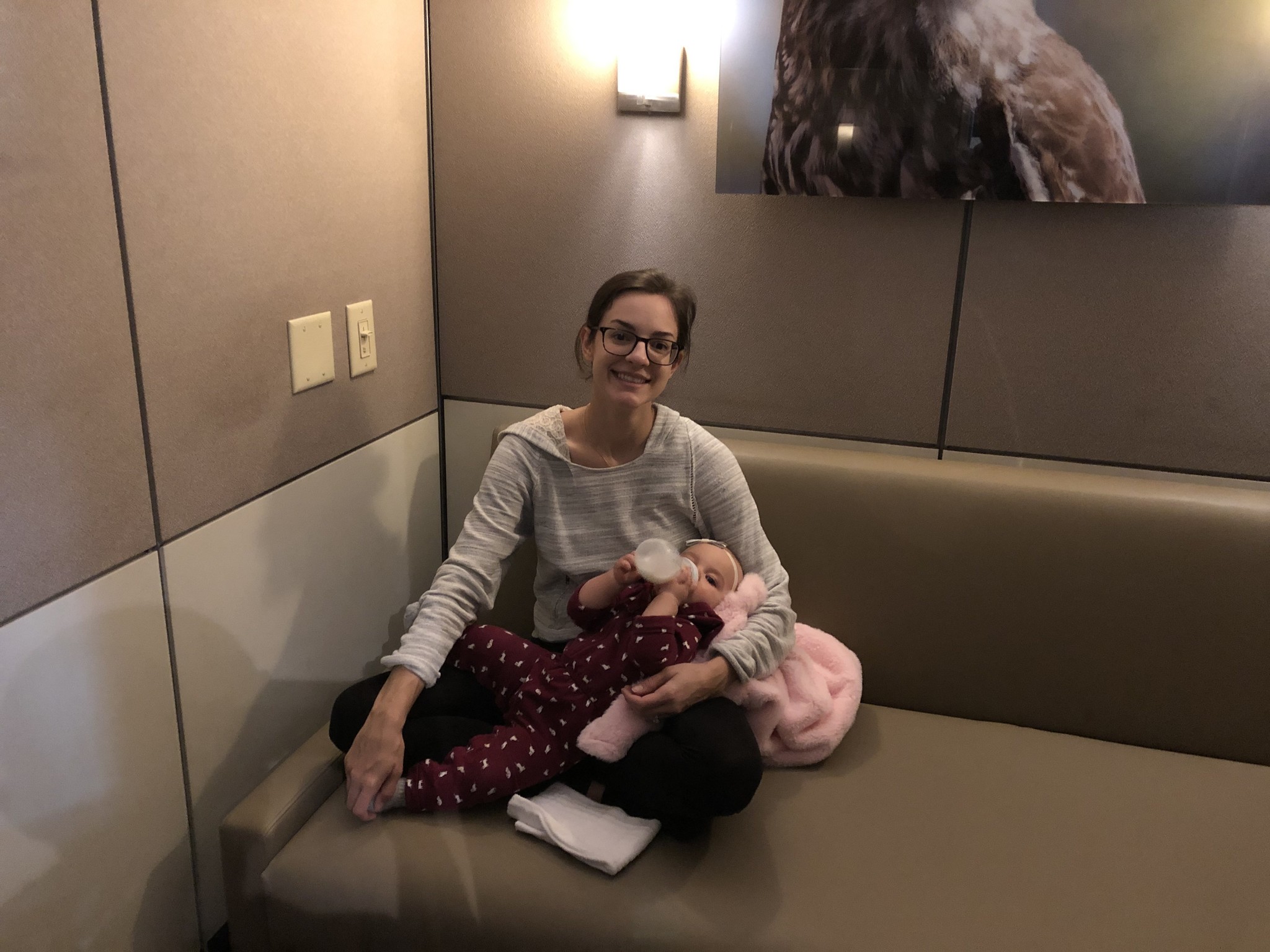 Our baby is pretty predictable. I knew she'd need a diaper change and bottle right before our flight, and the timing wouldn't work out if we tried to do it at home first. When we showed up, they were ready for us. We went right in and had a really relaxed hour and fifteen minutes! My daughter crawled around, then laid on a blanket and watched Muppet Babies on Disney Junior. She didn't get as frustrated during the flight either because she got some energy out. I never would have let her crawl around in the main airport.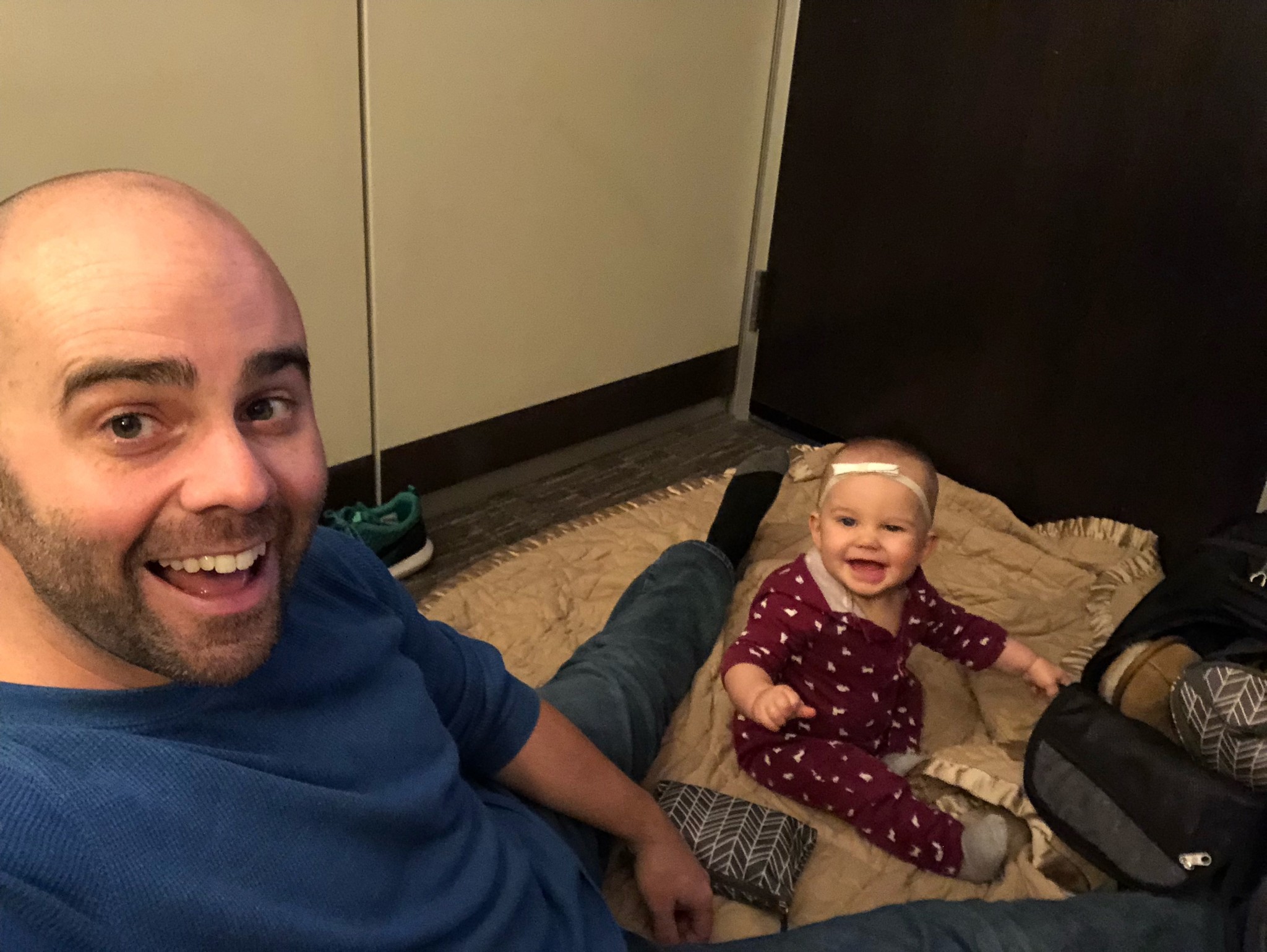 We go to Connecticut twice a year; Thanksgiving is the staple. We've only had the baby for 11 months, but Minute Suites is a great way to kick it off. It's actually a great way to kick off any trip.
Have you used Minute Suites on your own?
Yes, I used it shortly after Thanksgiving by myself. Again, to unwind before my flight. I have TSA precheck, so I like to think I'd show up and not wait, but that rarely happens because of all the construction at ATL right now. Even knowing what time to leave the house is hard because of traffic. So when I have a flight at, say, 9am, I don't want to sit at the gate for 40 minutes—that's annoying. But I can't cut it close because I carry on and I need the overhead space.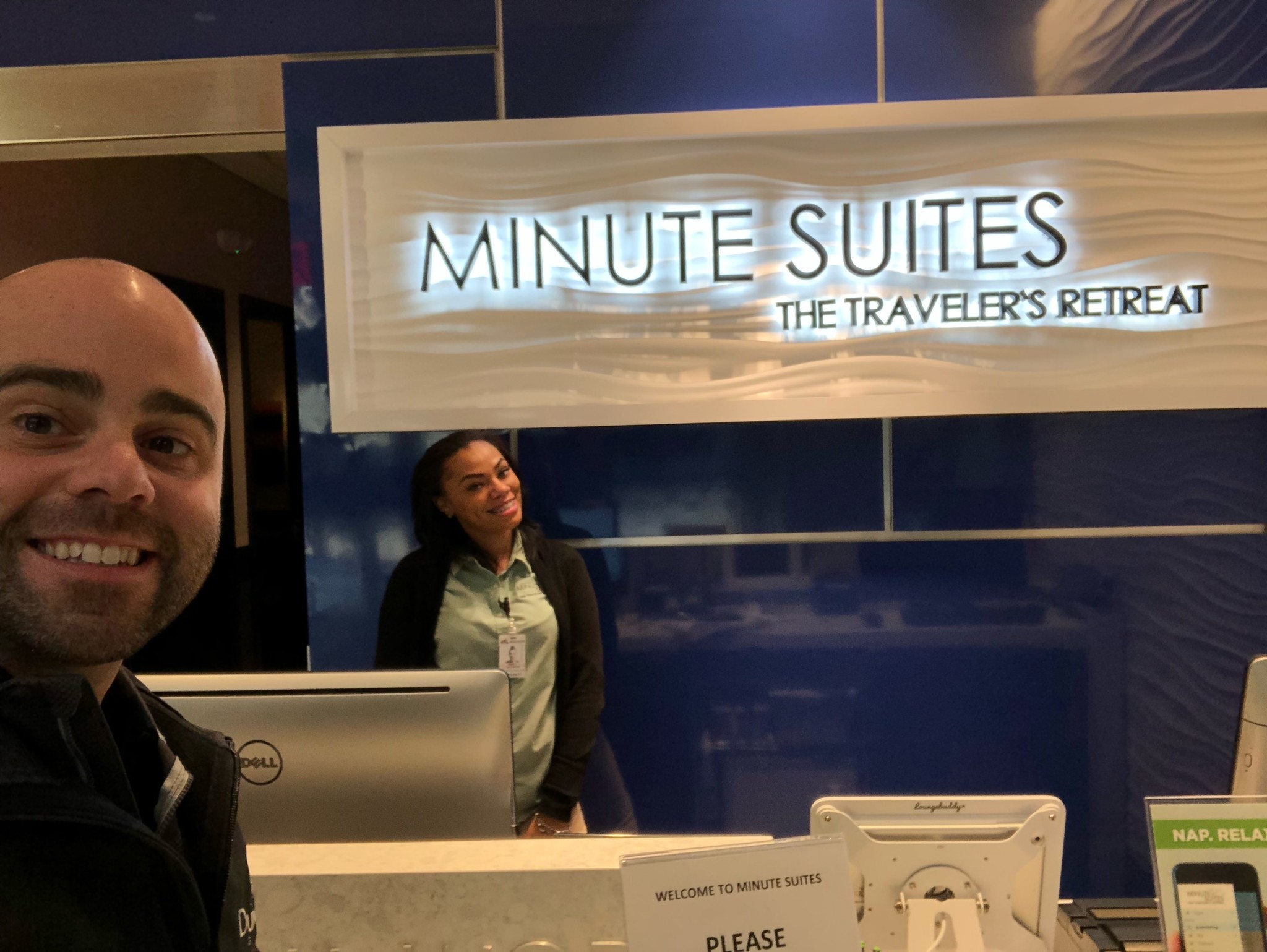 This time, I reserved my room, left early and had time to get coffee and a breakfast sandwich and watch a little TV before my flight. I went into my flight completely relaxed again. When I head to New Orleans in a few weeks, I'll do the same thing.
What was your experience like?
The first thing people ask me is if it's clean. The answer is, yes! There's a leather couch and they vacuum and sanitize everything. Then there are little touches, like a mint. I don't eat the mint, but I like seeing it on the pillow because I know it's fresh. There's no food or water included, but they tell you that up front, so they're not trying to surprise you. The two girls I interacted with in both terminals—B and T—were very friendly. They say hello, but the whole point is privacy, so that's about it.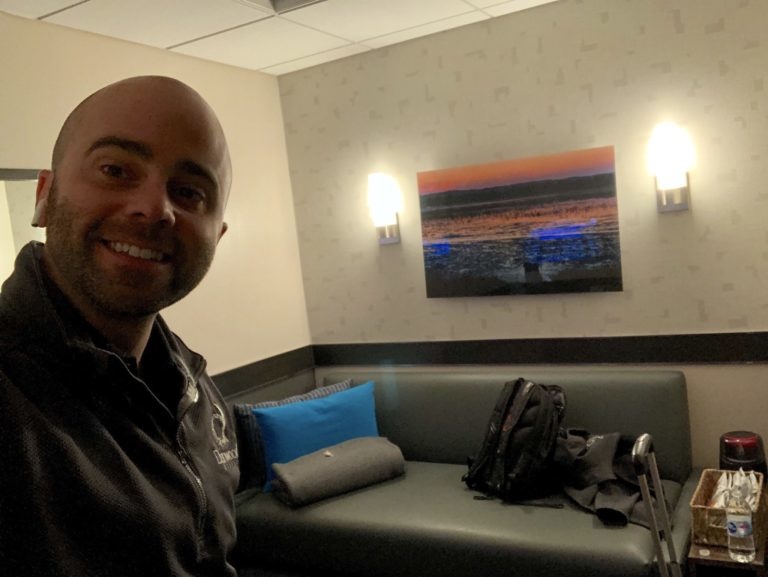 The physical structure is great, but they have a noisemaker just in case. You could go in and be asleep in 5 minutes. There's mood lighting and Alexa, which makes it simple. I said, "Alexa, set an alarm for 8:45." No wake up call needed!
How often do you travel?
I take about 10 round trip flights a year for work and a couple for vacation, so about one trip per month. I get to visit great places. This year, I'll have gone to DC, Orlando, Miamii, Chicago, Toronto and New Orleans. Next year, I'll head to Seattle and Vegas. Basically I go to cities where trade shows are being hosted, and I travel just enough that it's not annoying.
Your job requires some travel expertise, right?
I work for Dunwoody, so I sell and market Dunwoody, GA, for meeting planners hosting events.
To do that, I meet with other planners. They'll tell us what kind of conference or event they need to host and then we get all together and pitch destinations and hotels. I'm an extension of the hotel sales team, but I sell them all equally.
The fun part is, everyone hosting these meetings plans events for a living, so they're very picky about food, liquor and entertainment. I've seen private performances from Pitbull and Brett Eldredge and heard Michelle Obama, Jay Leno and Peyton Manning speak. We stay in good hotels too. I'm always conscious of rate/price because we're a government organization, but I know where to look.
So what's your biggest travel tip?
Stay brand loyal! I have Silver Medallion status with Delta, which has some great perks. I have Hilton points, too. Once you decide which brand to stick with, find the credit card that corresponds and wait for a 6-digit promo. Don't settle for a 50K-point bonus! Wait for 75K or 100K.
Check card incentives, too. For example, can you pay for points or status instead of earning it? When I do these trade shows, sometimes the block doesn't have a Hilton. By spending a little money to earn the extra points I need to hit Gold status, I can easily get enough points stay to get a free week somewhere. To me, that's worth it!
Do you have a travel tip worth sharing? Let us know on social media (Facebook, Instagram or Twitter). Just make sure to add #MinuteSuites.